Perfumed water
Body care
Flavours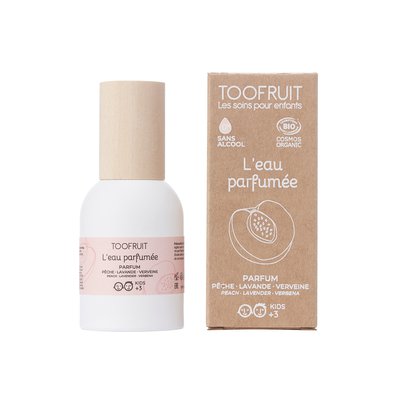 This product is labeled

Product for:
Peach - lavender - verbena eau parfumée, a certified organic perfume, designed for children. Based on 100% natural perfumes, without alcohol and without essential oils. Created by Jean-Charles Sommerard, master perfumer.
What is scented water ?
Our perfumes are alcohol-free perfumes, yet they have an intense trail. To achieve this, we use a unique and patented microemulsion technology combined with a specific selection of natural and organic ingredients. These microemulsions are like ultra-fine droplets made by a patented process. The micro-droplets easily penetrate the epidermis, leaving the skin moisturised, silky smooth and fragrant - all without alcohol!
Toofruit's scented waters are composed of :
A 100% natural perfume concentrate without essential oils to enchant the senses,
Fruit hydrolats and floral waters, for their olfactory and skin benefits,
Olive oil for its moisturizing properties for the skin.
A 100% eco-responsible product. The formula: certified organic, composed of 100% natural perfumes and made in France. The packaging: a recyclable glass bottle, a PEFC-certified limewood cap and a recyclable FSC-certified kraft case.
The aromatic tale:
"In Peach - Lavender - Verbena scented water, all is delight and pleasure. It will be the key to the well-being of the child who will choose it to relax, to unwind and to travel deep inside himself. In addition, the benefits of verbena and lavender hydrolats are recommended for a soothed and softer skin.
Its top notes enlighten the spirit with frank flights of fresh verbena and strong mint. The romantic heart asserts its tenderness with the soft embrace of true lavender, ylang-ylang flowers and wild violet, all rounded off with tasty white peach. Finally, the delicate woody base offers its beautiful gourmandise."
Jean-Charles Sommerard
The olfactory pyramid :
Top note: herbaceous notes, fresh verbena and strong mint
Heart note: true lavender, ylang-ylang, violet and white peach
Base note: Hoe wood, blackcurrant bud and old-fashioned jam
The hydrolat used :
True lavender floral water: from our beloved Provence, true lavender is the aromatic treasure of all our grandmothers. Its floral and aromatic fragrance reveals sweet hints of pear and honey. In addition, it has wonderful relaxing and purifying properties for the skin.
The ritual of use by Jean-Charles Sommerard :
"Shake the bottle to awaken the fragrance. Spray 3 to 5 times on the skin or clothes, to be renewed according to the emotions.

99.5 % of ingredients of natural origin
23.4 % ingredients from organic farming
VEGAN
Dermatologically tested
From 3 years old
Ingredients
Aqua, Lavandula Angustifolia Flower Water*, Parfum, Olea Europaea Fruit Oil*, Lecithin*, Saponins, Tocopherol, Sodium Benzoate, Sorbic Acid, Helianthus Annuus Seed Oil, Citric Acid, Potassium Sorbate, Linalool, Citral, Benzyl Salicylate, Benzyl Alcohol.
* Ingrédients issus de l'agriculture biologique
Distribution network:
Specialized shops
Pharmacies and parapharmacies
Distance Selling
Beauty shops and Spas