Repellent spray
Hair care
Hygiene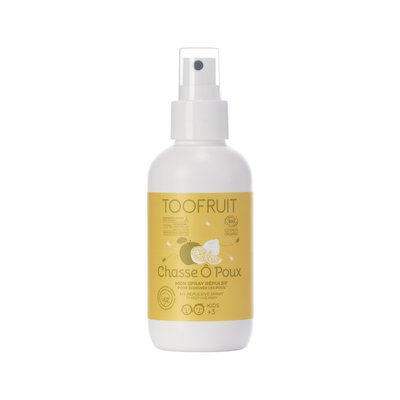 This product is labeled

Product for:
Chasse Ô Poux Spray Repulsif certifié bio has been specifically designed for children. Inspired by the natural remedies of our grandmothers, it helps to prevent lice infestations. This repellent spray has a preventive action and helps to keep the unwanted away. It can also be used as a preventive measure on clean, dry hair for several days before a treatment protocol. For better head lice control, it is recommended to use the full range of Chasse Ô Poux.
How do I use it?
I gently dry my hair with a towel.
Apply the repellent to the hairline. No need to rinse.
I can also spray repellent on my clothes.
Use for several days during the lice invasion.
How does it work?
Organic apple vinegar (acetic acid) dissolves the protective coating of the nits and prevents them from sticking to the hair.
Organic lemon water is an excellent natural preventive treatment against lice.
Vegetable glycerine prevents the scalp and hair from drying out.
Knotweed is a wild plant, which has a repulsive effect on lice and soothes the itching. More commonly known as a "weed", we are therefore using a natural resource that is most often rejected.
Results:
Lice are driven away and won't want to settle on your head. The tangy scent repels lice but not their friends!
Tested and approved by the Toofruit testers' club.
99% of ingredients of natural origin
20% of ingredients from organic farming
VEGAN
Tested on sensitive skin under dermatological control
From 3 years old
Ingredients
AQUA (WATER), CITRUS LIMON (LEMON) FRUIT EXTRACT*, GLYCERIN**, ACETUM**, CAPRYLYL/CAPRYL GLUCOSIDE, POLYGONUM AVICULARE EXTRACT*, CITRIC ACID, PARFUM (FRAGRANCE), POTASSIUM SORBATE, SODIUM BENZOATE
*Ingrédients issus de l'agriculture biologique
** Transformés à partir d'ingrédients biologiques
Distribution network:
Specialized shops
Hair salons
Pharmacies and parapharmacies
Beauty shops and Spas