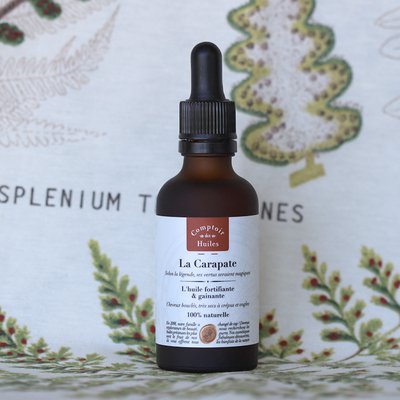 This product is labeled

Product for:
Used to promote hair growth and the prevention of split ends, Carapate oil has qualities close to castor oil.
Thanks to the fatty acids Carapate oil contains (ricinoleic acid) it is ideal for curly, frizzy or extremely dry hair. It helps to nourish, protect, and enveloppe the hair fibre. Thanks to its antibacterial properties it cleanses the dry or irritated scalp.
In addition to the benefits for the hair, Carapate oil is effective in strengthening and encouraging the growth of nails and eyelashes.
Ingredients
100% Ricinus Communis
Notre huile végétale de Carapate est originaire de Madagascar, fabriquée en France et certifiée Cosmos Natural par ECOCERT Greenlife selon le référentiel COSMOS. Elle est pure, 100% naturelle, non raffinée et n'a subi aucune transformation. Elle a conservé son odeur d'origine. L'huile de Carapate est issue du Ricin. L'huile de Carapate, ou encore black castor oil, se distingue de l'huile de ricin par son procédé d'extraction. L'huile de carapate est extraite à chaud, c'est-à-dire que les graines de ricin sont torréfiées, écrasées, puis portées à ébullition. L'huile flottant à la surface de l'eau est ensuite collectée. La torréfaction donne à cette huile son odeur particulière et sa couleur noire.
Distribution network: