Ximénia - vegetable oil
Body
Care
Hair care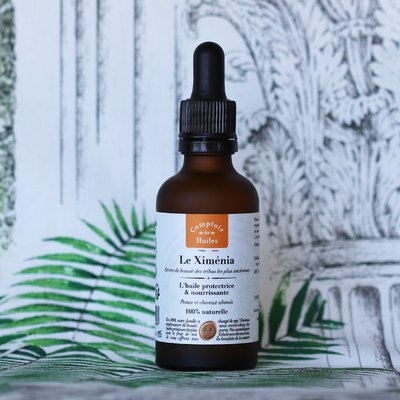 This product is labeled

Product for:
Rich in fatty acids, this oil has very nutritive and restorative qualities. Used on the body, Ximénia oil will help to deeply repair damaged tissues. Its film-forming action helps maintain a well hydrated skin. This film will also play a protective role by creating a barrier to repel external factors. The epidermis is restructured, and the skin looks softer, smoother and protected Applied to the hair, thanks to its vitamins and nutrients Ximénia oil will restore strength and vitality to dull and lifeless hair. It will form a protective film around the hair to nourish it, protect it and restore it to shine.
Ingredients
100% Ximénia Perrieri
Notre huile de Ximénia est originaire de Madagascar, fabriquée en France et certifiée Cosmos Natural par ECOCERT Greenlife selon le référentiel COSMOS. Afin de préserver toutes les propriétés et de respecter la nature de notre produit, nous extrayons l'huile pure de Ximénia à froid. Elle est pure, 100% naturelle, non raffinée et n'a subi aucune transformation. Elle a conservé son odeur d'origine.
Distribution network: