Cold process soap - Eternal moments of Vohimana
Soap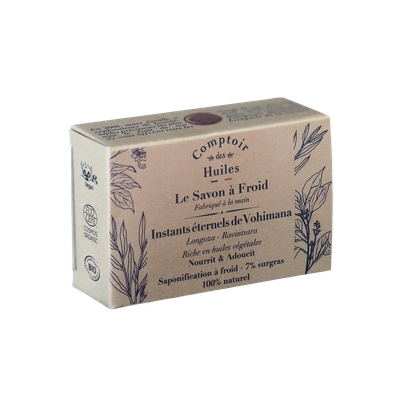 This product is labeled

Product for:
Some parts of the body are more vulnerable too dryness. Easily damaged and tend dry out when washed too often. Thanks to Comptoir des Huiles cold processes soaps, your daily beauty care routine is you first source of care.
The Cold process Soap Eternal moments of Vohimana is handmade in Florange, France, using a synergy of our Baobab, Coconut, Jatropha and Castor vegetable oils. This soap, which contains an exceptional rate of 7% "surgras", has been specially formulated to bring the best of nature to your skin everyday. The skin is hydrated and nourished more longer, no more dryness and feelings of tightness after your shower.
The Longoza and Ravintsara essential oils will immerse you into the heart of a wild garden in central southern Madagascar. There is a legend behind the Longoza flower: event if you cut it, it will be reborn, it has eternal life. Endemic to Madagascar. Ravintsara means "good leaf" in Malagasy, thanks to its remarkable properties it is a plant widely used in aromatherapy.
The Cold Soap Navigating the Pangalanes Canal is Cosmos Organic certified by Ecocert Greenlife according to the COSMOS standard.
Our soaps are handmade in our factory in Florange using the cold process technique.
Colorant-free: 100% natural color from the vegetable oils used
Free from additives
Without any conservative agent
Without palm oil
Contains essential oils, not recommended for pregnant women and children under 6 years old.
Ingredients
Ingrédients INCI : Cocos Nucifera Oil*, Jatropha Mahafalensis Seed Oil*, Aqua, Adansonia Grandidieri Seed Oil*, Sodium Hydroxide, Ricinus Communis Seed Oil*, Kaolin, Aframomum angustifolium seed extract*, Cinnamomum camphora oil*, Limonene**, Linalol**
Traduction des ingrédients : huile végétale de coco*, huile végétale de jatropha mahafalensis*, eau, huile végétale de baobab*, Hydroxyde de sodium, huile végétale de ricin*, argile, huile essentielle de longoza*, huile essentielle de ravintsara*, traces de composants présents dans les huiles essentielles.
* Ingrédient issu de l'Agriculture Biologique.
** Naturellement présent dans les huiles essentielles
100% du total est d'origine naturelle et 65,83% du total des ingrédients sont issus de l'Agriculture Biologique.
Distribution network: