Le Baobab - vegetable oil
Body
Care
Hair care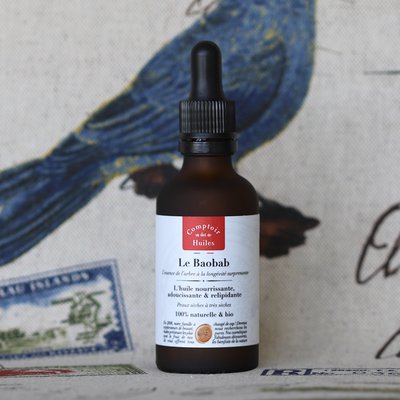 This product is labeled

Product for:
A real asset to the skin, baobab oil has an ultra-nourishing, anti-aging, softening and regenerating action. Thanks to the Omega-6 and Omega-9 it contains, Baobab oil deeply nourishes and preserves the hydration of the skin by acting as a natural protective film. Vitamin E present in this oil makes it an effective anti-aging complex, which helps the skin to retain all its elasticity and youth. Baobab oil has a large amount of phytosterols, which act by repairing damaged tissues. Also beneficial to the hair, it nourishes the hair in depth, while protecting it from external factors. Dry and split hair regains its tone and beauty.
Ingredients
100% Adansonia grandidieri
Notre huile végétale de Baobab est originaire de Madagascar, fabriquée en France et certifiée Cosmos Organic par ECOCERT Greenlife selon le référentiel COSMOS. Afin de préserver toutes ses propriétés et de respecter la nature de notre produit, nous extrayons l'huile pure de Baobab à froid. Elle est pure, 100% naturelle, non raffinée et n'a subi aucune transformation. Elle a conservé son odeur d'origine, à savoir une odeur proche du cacao torréfié. Douce au toucher et facile à appliquer, notre huile de Baobab trouvera rapidement sa place dans vos "indispensables beauté".
Distribution network: