Moringa Drouhardii - vegetable oil
Body
Care
Hair care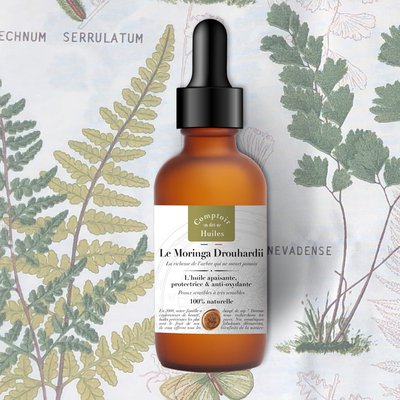 This product is labeled

Rich in vitamins A, B, C, E, Moringa Drouhardii oil is a very versatile beauty tool. It is ideal for sensitive skin. It can be used from head to toe, for the face or body, or even hair. Used in massage oils on the body, neck, and chest, the oil nourishes the skin deeply and helps maintain a firm and toned skin. Rich in antioxidants, it helps fight against premature aging and it replenishes the tissues by nourishing them and helps to maintain a firm skin. Applied to the hair, Moringa Drouhardii oil will help nourish the hair fibre in depth, from root to tip. In light massage movements to the scalp, it will help cleanse the scalp. The vitamins and minerals contained naturally in this oil help to strengthen the hair and make it shine.
Ingredients
100% Moringa Drouhardii
Notre huile de Moringa Drouhardii est originaire de Madagascar, fabriquée en France et certifiée Cosmos Natural par ECOCERT Greenlife selon le référentiel COSMOS. Afin de préserver toutes les propriétés et de respecter la nature de notre produit, nous extrayons l'huile pure de Moringa Drouhardii à froid. Elle est pure, 100% naturelle, non raffinée et n'a subi aucune transformation. Elle a conservé son odeur d'origine.
Distribution network: