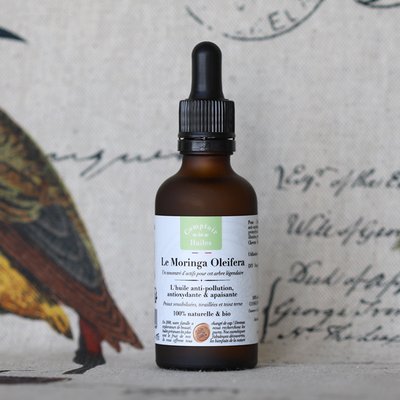 This product is labeled

Product for:
Rich in vitamins A, B, C, E, Moringa Oleifera oil is the ideal care for sensitive skin, rough and dull complexion. Rich in antioxidants, it helps fight against premature aging of the skin, it replenishes the tissues by nourishing them and helps to maintain a firm skin. Less common use for an oil, Moringa Oleifera oil is also a very good daily facial cleanser. It is very effective in protecting skin from external factors and getting rid of pollution. Used daily, it leaves a clean, radiant complexion and a smooth skin. Applied to the hair, Moringa Oleifera oil will form a film around the hair fibre to protect it from external factors, from root to tip.
Ingredients
100% Moringa Oleifera
Notre huile de Moringa Oleifera est originaire de Madagascar, fabriquée en France et certifiée Cosmos Natural par ECOCERT Greenlife selon le référentiel COSMOS. Afin de préserver toutes les propriétés et de respecter la nature de notre produit, nous extrayons l'huile pure de Moringa Oleifera à froid. Elle est pure, 100% naturelle, non raffinée et n'a subi aucune transformation. Elle a conservé son odeur d'origine.
Distribution network: