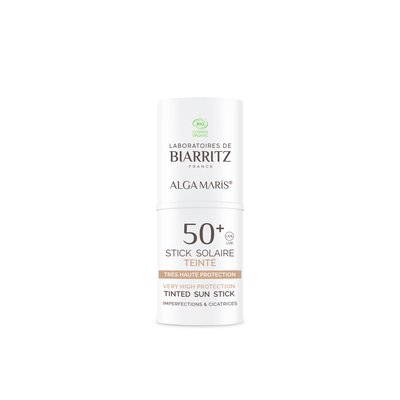 This product is labeled

Product for:
Certified COSMOS* SPF50+ Sunscreen Tinted Stick protects particularly fragile areas against UV radiation, while providing natural and covering color for the skin.
It is specifically recommended for skin imperfections that require absolute protection against UV such as recent scars, hyper-pigmentation (melasma, pregnancy masks), acnea, etc.
This SPF50+ Sunscreen Tinted Stick ensures a very high protection against the negative effects of solar radiation, thanks to its anti-UVA/UVB mineral filters and its patented red seaweed extract, Alga-Gorria®, a powerful antioxidant.
Hypoallergenic, fragrance-free.
Can be used from the age of 3 years.
Distribution network:
Specialized shops
Pharmacies and parapharmacies
Distance Selling