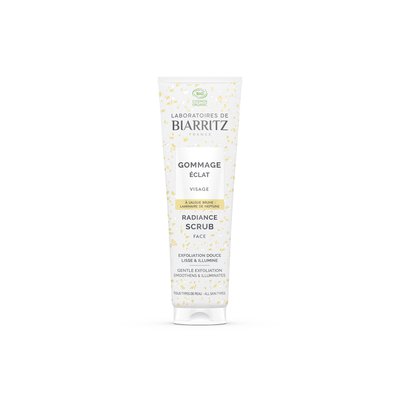 This product is labeled

Product for:
Enriched in moisturizing and soothing ingredients, the certified Organic Face Radiance Scrub gently eliminates dead cells and refines the texture of the skin. It activates cellular renewal and makes the complexion fresh and luminous.
The Radiance Scrub gently eliminates dead cells, while improving the texture of the skin.
Its natural, mechanical exfoliating effect activates cellular renewal and microcirculation. It reveals a fresh and luminous complexion.
The tone of the skin is smooth and the skin does not tingle after use.
The star ingredient it contains, Sugar Kelp (Laminaria saccharina), is an extract of brown seaweed that soothes tingling and brings out the radiance of the skin.
It also contains coconut shell powder and castor wax, two plant-based exfoliators.
Enriched in Organic Aloe vera, Organic jojoba oil, and Organic alpha-bisabolol, it hydrates, protects, nourishes, and procures an anti-reddening effect.
It is suitable for all skin types and its light and delicate fragrance (water lily, cotton flower) procures a true moment of relaxation.
Vegan.
Usable during pregnancy and breastfeeding.
Distribution network:
Specialized shops
Pharmacies and parapharmacies
Distance Selling