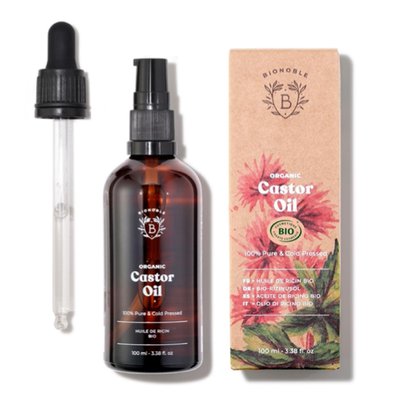 This product is labeled

Product for:
Organic Castor Oil
100% Pure, Natural & Cold Pressed
Our Best Seller! This multi-purpose oil will allow you to perform an impressive number of different care. You will quickly adopt it in a large format so that you will always have some on hand.
Need a 100% natural boost for your lashes & eyebrows? Try a Castor Oil treatment with our Mascara Kit! An ultra easy application for a beautiful smouldering look.
It is the most complete hair & scalp care of all Bionoble products. As a growth treatment, as a nourishing repairing mask, as a soothing scalp treatment or to treat dry dandruff.
It works miracles on very dry skin that feels tight and acts as a repairing balm to nourish and prevent feelings of discomfort.
Scars & stretch marks, these small marks that require a lot of love will be pampered with our Castor Oil.
Apply it as eye contour to efficiently reduce wrinkles, fine lines and crow's feet and regain a more radiant look.
Castor oil will be a friend to those who proudly wear a beard! There is no better way to stimulate the growth and make it soft and silky.
Long and strong nails that don't split anymore.
A cosmetic ingredient with nourishing and growth-stimulating properties, to use in all your personalised formulas: hair masks, lip balms, shampoos...
As Castor Oil has laxative properties, it is not recommended to use it on the stomach, breasts and lips during pregnancy and breastfeeding. However, you can use it on eyelashes, hair & the rest of the body quite easily!
HAIR & SCALP
Perform a nourishing oil bath by leaving the equivalent of a tablespoon of oil on overnight. You can mix with another more fluid oil such as Argan or Jojoba to facilitate the application. Once a month.
EYELASHES & EYEBROWS
Perform growth treatments by applying oil with the Mascara Kit once a day, in the evening before bed, as the last step of your care routine. This treatment should be done once every 2 months.
BODY
Apply a dab of oil to very dry areas in the evening before bedtime and leave it to work its magic all night long to wake up with baby's skin. Insist on the little marks of life (scars, stretch marks,...).
BEARD
Apply a few drops using the fingertips to penetrate from the root to the tip. Massage a few minutes for absorption. As a growth treatment for 3 weeks, once per quarter.
Ingredients
INCI : Ricinus Communis (Ricin) Seed Oil*
*Ingrédient issu de l'Agriculture Biologique.
100% du total des ingrédients sont d'origine naturelle.
100% du total des ingrédients sont issus de l'Agriculture Biologique.
COSMOS ORGANIC certifié par Ecocert Greenlife selon le référentiel COSMOS disponible sur http://COSMOS.ecocert.com.
INCI : Ricinus Communis (Castor) Seed Oil*
*Ingredient from Organic Farming.
100% natural origin of total.
100% organic of total.
COSMOS ORGANIC certified by Ecocert Greenlife according to COSMOS standard available at http://COSMOS.ecocert.com.
Distribution network: