BIONOBLE / DOROGA
Argan Oil
Body
Eye contour
Legs
Care
Lip care
Cleanser
Hand
Foot
Nail
Hair care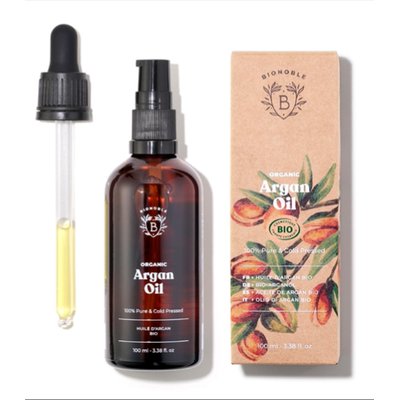 This product is labeled

BIONOBLE / DOROGA
Argan Oil
Body
Eye contour
Legs
Care
Lip care
Cleanser
Hand
Foot
Nail
Hair care
Product for:
Organic Argan Oil
100% Pure, Natural & Cold Pressed
Berbers in the Atlas Mountains have been using it for centuries in their beauty and well-being treatments, for it has clearly proved its effectiveness!
A quintessential nourishing anti-ageing treatment to smooth your features. Wrinkles, fine lines, crow's feet and brown spots had better watch out!
The cocooning treatment your body has been waiting for long enough. Nourished and more elastic, your skin is more comfortable and itching is soothed.
Need super natural care for dry, dull and brittle hair? Argan Oil nourishes the hair fibre and sheathes your hair so that it reveals all its shine!
Fancy a soft and silky beard without dandruff? This is an ideal 2-in-1 treatment to care for both your beard and skin. No more shaggy beards and itching.
Sublimate your nails and improve the appearance of dry cuticles and reduce brown spots on your hands.
A cosmetic ingredient with anti-ageing properties to use in your personalised formulas: massage oils, hair masks, soaps, creams...
Suitable for pregnant and breastfeeding women. Ideal for the face, body and hair care of toddlers.
BODY
For daily care, apply a dab of oil to each area (full leg, arms, belly + bust...) just after a shower, on slightly damp skin. Massage until complete absorption. Insist on very dry areas (feet, hands, elbows).
FACE
Apply 5 to 7 drops in your hands. Warm the product between your hands and spread it over the face, neck and neckline. Massage for 3 minutes with movements from the centre to the outside of the face. Morning and evening for mature and dry skin.
BEARD
Apply a few drops using the fingertips to penetrate from the root to the tip. Massage a few minutes for absorption. Once a day on a clean and brushed beard if necessary.
HAIR & SCALP
Apply a drop of oil on the tips and lengths, in the evening and before bedtime. 2 to 4 times a week. You can also make a nourishing oil bath by leaving the equivalent of a tablespoon of oil overnight. Once a month.
Ingredients
INCI : Argania Spinosa (Argan) Kernel Oil*
*Ingrédient issu de l'Agriculture Biologique.
100% du total des ingrédients sont d'origine naturelle.
100% du total des ingrédients sont issus de l'Agriculture Biologique.
COSMOS ORGANIC certifié par Ecocert Greenlife selon le référentiel COSMOS disponible sur http://COSMOS.ecocert.com.
INCI : Argania Spinosa (Argan) Kernel Oil*
*Ingredient from Organic Farming.
100% natural origin of total.
100% organic of total.
COSMOS ORGANIC certified by Ecocert Greenlife according to COSMOS standard available at http://COSMOS.ecocert.com.
Distribution network: