BIONOBLE / DOROGA
Black Seed Oil
Body
Eye contour
Legs
Care
Lip care
Cleanser
Hand
Foot
Nail
Hair care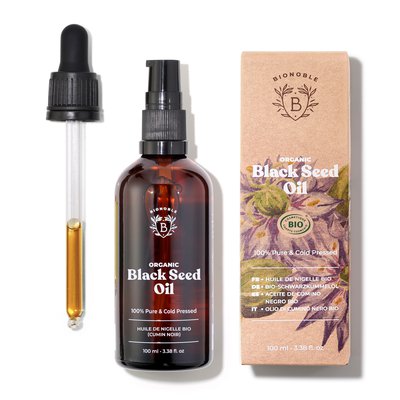 This product is labeled

BIONOBLE / DOROGA
Black Seed Oil
Body
Eye contour
Legs
Care
Lip care
Cleanser
Hand
Foot
Nail
Hair care
Product for:
Organic Black Seed Oil
100% Pure, Natural & Cold Pressed
For those of you who have tried everything else to get rid of your acne, Nigella Oil could be your new superhero!
A gentle purifying treatment that gets rid of blemishes and says goodbye to acne, enlarged pores, excess sebum and blackheads!
The ultimate soothing skin care product that helps weakened skin. Soothe eczema, psoriasis, and common soreness.
In need of comfort and firmness? Nigella Oil provides you with all the fatty acids and vitamins for a firmer, nourished and toned skin.
Relax and enjoy its anti-inflammatory action for aches and pains in your joints.
Tired of dandruff and hair that regreases too quickly? Test and adopt Nigella Oil for an always clean scalp!
Do you want a healthy, supple and fuller beard? It's the perfect treatment to stimulate growth and to gently treat minor problems.
A purifying and softening cosmetic ingredient to use in your own recipes: massage oils, hair masks, soaps, creams...
No suitable for pregnant and breastfeeding women and toddlers. Always test for allergic reactions on the elbow before use. For children's face, body and hair care, prefer Jojoba and Argan oils.
FACE
Apply 3 to 5 drops in your hands. Warm the product between your hands and spread it over the face, neck and neckline. Massage for 3 minutes with movements from the centre to the outside of the face. Morning and evening for mixed to acne-prone skin.
Can be used pure or diluted with a neutral plant-based oil such as our Jojoba Oil for sensitive skin.
BODY
For daily care to nourish the skin and soothe itching in case of dermatitis (eczema, psoriasis...).
Apply 1 squeeze of oil per affected area and massage until complete absorption. Insist on very dry areas, several times a day if necessary.
HAIR & SCALP
To rebalance sebum production and get rid of dandruff, apply a few drops of oil to the scalp and leave for 20 minutes to an hour before shampooing. Twice a month.
For a complete care of the scalp and the lengths, you can also make a nourishing oil bath by leaving the equivalent of a tablespoon of oil overnight. Once a month.
BEARD
To purify, eliminate dandruff and stimulate growth, apply a few drops on beard and skin. Spread and massage with fingertips in a circular motion to help the oil penetrate. Use this care once or twice a week.
Ingredients
INCI : Nigella Sativa (Nigelle ou Cumin Noir) Seed Oil*
*Ingrédient issu de l'Agriculture Biologique.
100% du total des ingrédients sont d'origine naturelle.
100% du total des ingrédients sont issus de l'Agriculture Biologique.
COSMOS ORGANIC certifié par Ecocert Greenlife selon le référentiel COSMOS disponible sur http://COSMOS.ecocert.com.
INCI : Nigella Sativa (Black) Seed Oil*
*Ingredient from Organic Farming.
100% natural origin of total.
100% organic of total.
COSMOS ORGANIC certified by Ecocert Greenlife according to COSMOS standard available at http://COSMOS.ecocert.com.
Distribution network: