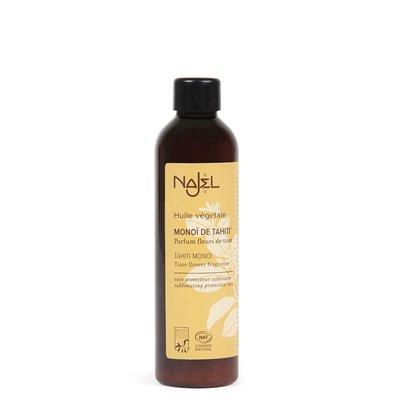 This product is labeled

Product for:
Prepared according to age-old traditions, Monoï de Tahiti® is a natural treasure, full of goodness. A symbol of summer, Najel Monoï de Tahiti® is ideal for skin and hair dried by the sun, after a day on the beach. This oily macerate is also suitable for dry winter skin, soothing cracks and chapping.
It is made by macerating Tiare flowers in coconut oil. Monoï de Tahiti® is a complete care for the face, body and hair.
A symbol of purity, Tiare flower or Tiaré Tahiti (Gardenia taitensis) is a beautiful flower with a snowy whiteness. The purifying and soothing Tiare flower exudes a gentle, captivating fragrance.
Coconut is the fruit which feeds Tahitian people and the surrounding islands. It is considered as the white gold of Tahiti and produces a clear oil with an unique delicaty. This silky and light oil is valued for its moisturizing and nourishing properties.
Thanks to this subtile combination of Tiare flower and Coconut, Monoï de Tahiti® Najel certified Cosmos Natural reveals its natural repairing and nourishing powers of repair and nourishment. It penetrates and moisturizes the external layers of the skin.
This firming oil makes your skin more elastic and smoother. It leaves the skin embellished and satin-like, with a delicate scent.
Good to know: the Tiare Tahiti flower, or tiare flower, whose scientific name is Gardenia tahitensis, is a flowering shrub native to the Pacific islands. Its year-round blossoming ensures permanent availability. Its distinct fragrance has earned it fame in the beauty world, and it is a crucial ingredient, along with coconut, in the making of the precious Tahiti Monoï®.
Caution : Monoï de Tahiti® does not protect from sun. Avoid contact with eyes. Monoï de Tahiti® melts above 24°C. Store in a cool, dry place, out of light.
Najel Monoï de Tahiti® is available in a jar for winter and in a bottle for summer.
Our advice: Monoï de Tahiti® contains no sun blocks and does not protect against the harmful effects of the sun. Avoid laying in the sun at maximum sunshine hours or use an appropriate sun cream.
Ingredients
COCOS NUCIFERA (COCONUT) OIL, GARDENIA TAHITENSIS FLOWER, PARFUM (FRAGRANCE), TOCOPHEROL, BENZYL BENZOATE, BENZYL SALICYLATE, FARNESOL, LIMONENE, LINALOOL.
100% du total est d'origine naturelle. Cosmos Natural certifié par Ecocert Greenlife selon le référentiel Cosmos disponible sur http://cosmos.ecocert.com
®Monoï de Tahiti, appellation d'origine.
Distribution network:
Specialized shops
Beauty shops and Spas
Pharmacies and parapharmacies