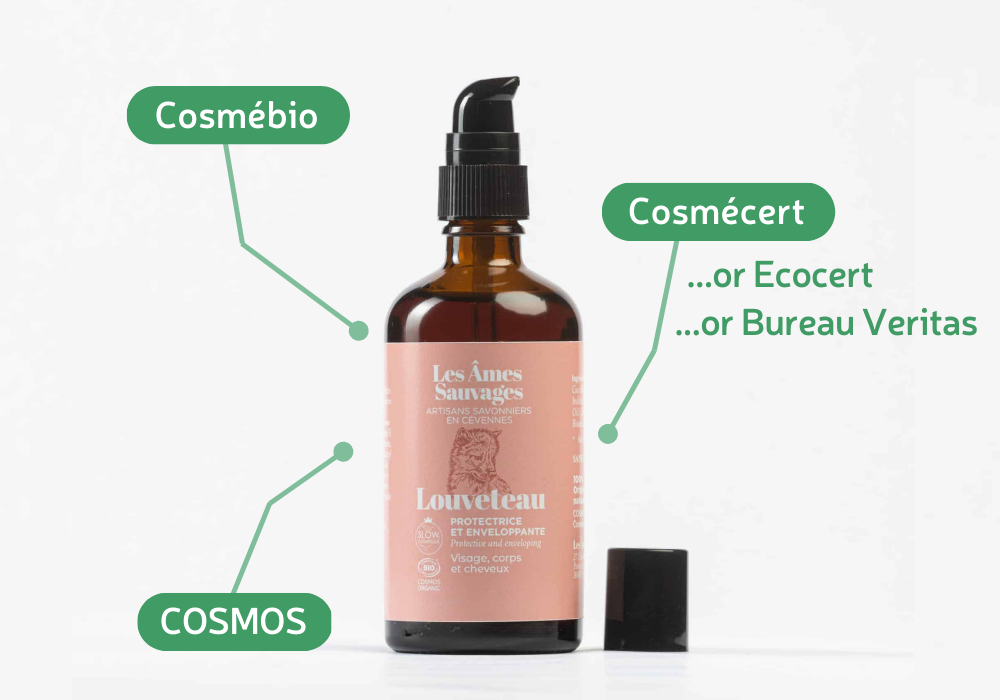 For the French natural and organic cosmetics market, there are a number of different organizations and entities. To help you understand what differentiates them all, this article will explain the role for each that we find printed on a cosmetic product's packaging.
Cosmébio : Association and label for organic cosmetics since 2002
What is Cosmébio?
 
Cosmébio is a professional association that was created in 2002. The goal was to set the framework and structure the French natural and organic cosmetics market while helping develop organic brands and revolutionize the sector. At this time, there was no regulation governing organic cosmetics seeing as the organic cosmetics market was just getting started. 
None the less, Greenwashing was ever present! This was the main reason Cosmébio created its label. The goal was to create a reference that the consumer could easily spot on a cosmetic product. Cosmébio imagined a logo that would only be allowed on cosmetic products upholding a high standard in the matter of their ingredients but also for their general practices. This includes their ethical sourcing, environmentally friendly packaging, responsible marketing…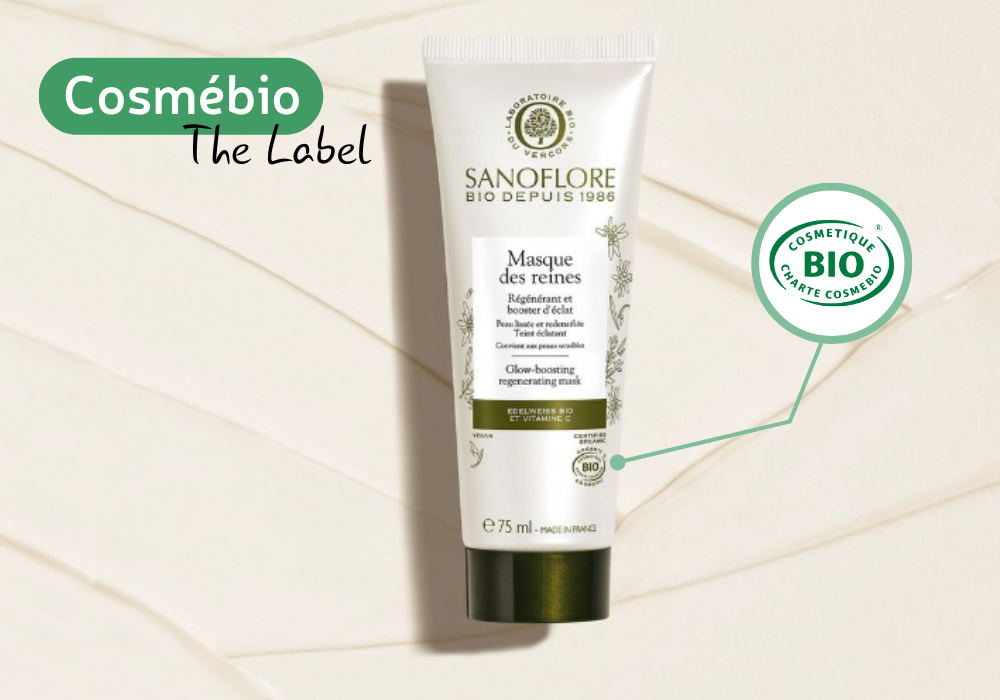 Photo credit - background image : Instagram Sanoflore
What sets the guarantees of the label?
The guarantees of the Cosmébio label are set by a specifications document (we also call this a "standard"). Wondering what a specifications document looks like? In reality it's just a long list of conditions that must be respected in order for a cosmetic to be considered truly organic and therefore merit the Cosmébio label. You can consult our standard, COSMOS (which we will also talk about later in this article), used by Cosmébio here : consult the COSMOS standard.
Pour 15 years, Cosmébio used a national standard, created by a working group at the heart of the association. This working group was made up of 15 experts working for the following structures : Alvend, Anne-Marie Boerling France, Bioconvergence, Ecocert, Europlabo, J. Paltz, Phyt's, Probionat, Rouvière, Sanoflore, Sicobel et Weleda.
Today, Cosmébio uses the COSMOS standard, a stricter sepcifications document that is more easily applicable internationally. Find our more about the guarantees of the Cosmébio label here Cosmébio Label.
Ecocert, Bureau Veritas et Cosmécert : the certifying bodies
 
Ecocert, Bureau Veritas et Cosmécert are certifiers, meaning they are independent certifying bodies. Contrary to popular belief, their logos are not organic cosmetic labels. It should be noted that Ecocert enforces the presence of its logo on the products certified by its team. However, Cosmecert and Bureau Veritas do not formalize this obligation. Meaning it is possible to see organic cosmetics without these certifier's logo. However, their names must be cited in the mandatory information presented on the back of the packaging.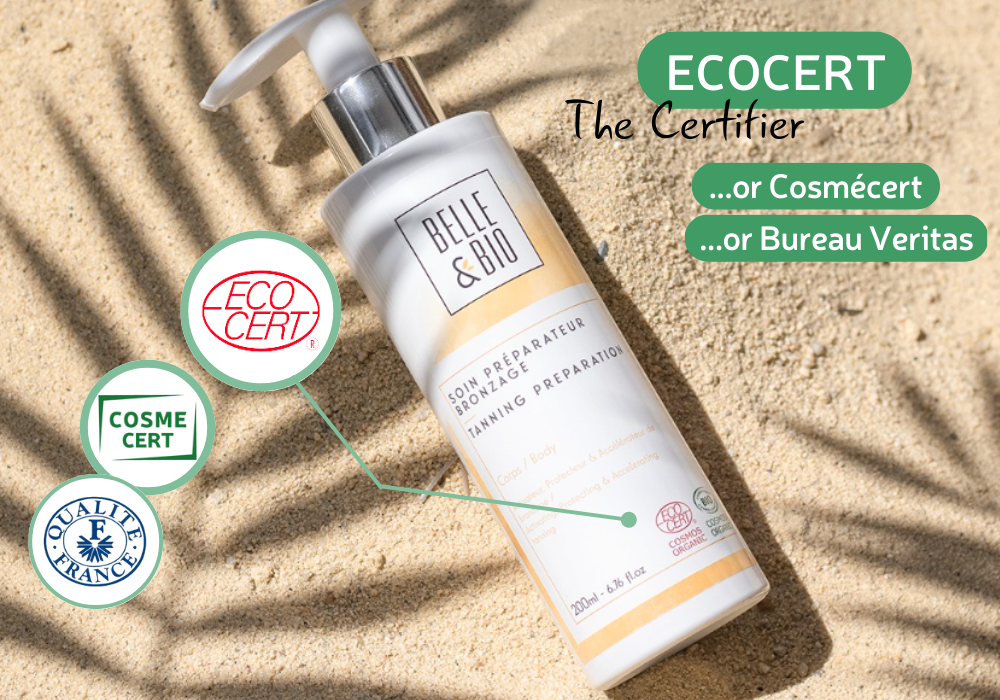 Photo credit - background image : Instagram Belleetbio.officiel
Their role is to certify, according to standard, that the companies respect the mandatory requirements needed for the label or certification.
While they have teams specialized in organic cosmetic certification, Ecocert et Bureau Veritas also certify other industries, such as: 
Quality Management Systems: l'ISO 9001, OHSAS 18001…
Textiles with certifications like GOTS, Organic Content Standard, ERTS.
Forest supply chain with the PEFC certification.
(this list is indicative only and non-exhaustive)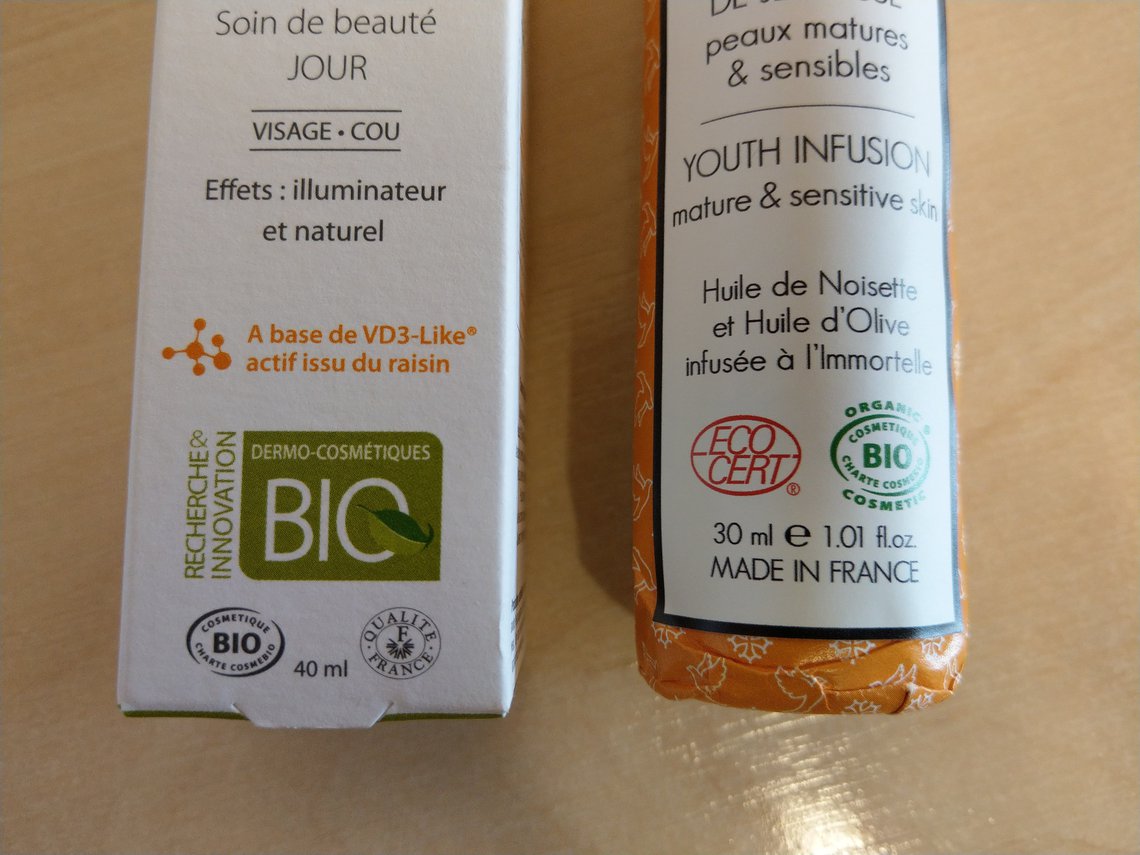 For organic cosmetics, the role of Ecocert, Bureau Veritas and Cosmécert ends once the certificate has been delivered. This certificate is necessary proof that one or more of the products meet our organic standard and therefore this product has the right to use the Cosmébio label. From here, Cosmébio "takes over" by providing the label and offering a whole range of services to companies - training programs, professional events to grow their network, technical assistance, marketing and communication events...
---
INFO : Because Cosmébio is an association, it doesn't have the right to certify products. The law requires that a specifications document must be handled by a certifying body.
This is why Ecocert was integrated into the labeling process 20 years ago. The standard remains a collective work of intellectual property.
---
COSMOS : the standard for the Cosmébio label
 
COSMOS – COSMetic Organic Standard – is the specifications document created by BDIH, Cosmébio, Ecocert, ICEA et Soil Association. The goal was to harmonize the guarantees of different organic labels from different countries around the world. 
COSMOS does not have a label or a logo destined for the packaging cosmetic products. COSMOS ORGANIC or COSMOS NATURAL are signatures that are attached under either the organic (or natural) label or the certifying body logo.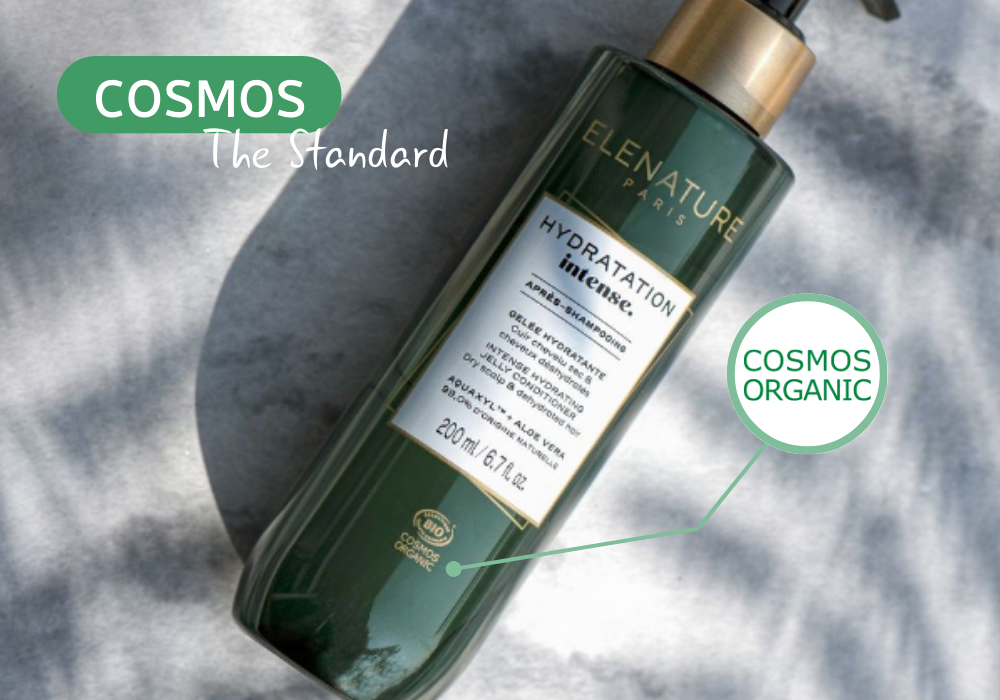 Photo credit - background image : Instagram Elenature_paris
Creating this new standard was also the perfect opportunity to raise the requirements, meeting the new demands of the conscious consumer.
Since January 1 2017, the COSMOS standard has replaced Cosmébio older national standard created 20 years ago. All news and updated products are therefore certified according to this standard. Products certified according to the previous standard are still on the market today, but are slowly being eased out with innovation.
Does ISO 16128 have anything to do with all this ?
 
The ISO 16128 isn't a label, nor a specifications document, nor a law, and definitely not a certification. It's just a guideline that gives different definitions and ways of calculating organic and natural ingredients in cosmetic formulas.  However, this guideline has yet to achieve a general agreement in the organic sector.
➡️ Find our more by  consulting our page dedicated to ISO 16128.
Found this article interesting? You may also like: