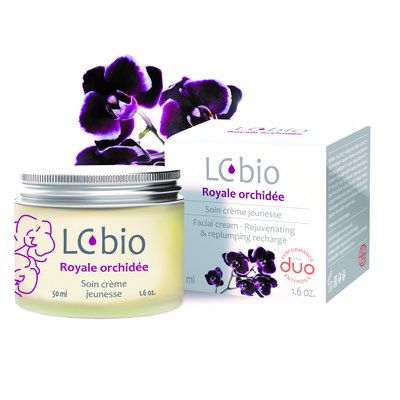 This product is labeled

Product for:
This laboratory M120 SERP breaks new ground with testing 2 organic cosmetic products in duo.
Rouge camélia (Red camellia) + Royale orchidée (Royal orchid) !
Clinical test results:
Auto-scoring:
The use of the products together visiblky reduces wrinkles - Yes - 67%
My skin is replumped with a better tone - Yes - 71%
My skin is smoother and softer with a feeling of comfort - Yes - 86%
My skin is better hydrated and ready to make up - Yes - 90%
Instrumental test : measuring the anti-wrinkle effect:
About wrinkles (before vs after) : an improvement is measured on 95% of the women of the panel
This average statistically significant decrease in eye wrinkles appearance (lenght-depth) is of 24%
Details about the panel of testers: 21 women aged 45 to 65. 4 women aged 45 to 48/ 8women aged 49 to 59/ 9 women aged 60 and more. One daily application of both products.
Key active ingredients: Alfalfa leaf extract, macadamia, borage and jojoba oils, babassu butter, black orchid flower and leaf extract, plant phystosterols.
98% of ingredients are natural plant based
34% of ingredients come from organic farming
Instructions: On clean skin, apply a fine layer and massage until completely absorbed
Ingredients
Voir fiche produit sur le site internet www.m120serp.com
Distribution network:
Beauty shops and Spas
Distance Selling