TERRA COSMETICS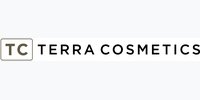 We work with expert producers in the food, biotechnology or fragrance industry to favor cross-fertilization and introduce novel ingredients to cosmetics. Terra Cosmetics audits products, initiates and monitors new analytical and evaluation studies and elaborates marketing strategies for selected partners wishing to extend their presence in the world of beauty. Combining renowned expertise on natural ingredients and a global network, we identify and secure alternative sources of strategic products. But we are also on the lookout for new sources as an efficient way to promote and sustain the culture of diversity and local singularities. Using our privileged access to original expertise and anticipating the emerging needs of the industry, Terra Cosmetics has developed their own line of exclusive ingredients. Nature-derived and intimately connected to formulation needs, these are precisely designed to enhance product efficiency and boost customers' adoption.
Our ingredients
---

Texturizing and emulsifying agent based on a synergistic combination
of natural gums and phospholipids providing three-dimensional
network and excellent skin feel.
---
Address and contact
60 CHEMIN DES GARDETTES
26400 CREST
FRANCE
---
Contact details
Our activities
Quantités
Small quantities
Large quantities