OCEOPIN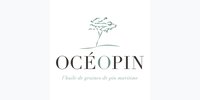 The brand Océopin was founded in 2012 in the pinewoods of Cap-Ferret, near Bordeaux (France), with the ambition of creating an innovative cosmetic range combining excellence, naturality and efficiency.
Our flagship product, L'HUILE DE GRAINES DE PIN MARITIME ® is the result of ten years of studies conducted by Professor Robert Wolff, a researcher at the Institut of Fats & Oils in Bordeaux. Dermatological and clinical tests have shown the exceptional benefits for the skin of L'HUILE DE GRAINES DE PIN MARITIME®. These findings were published in many scientific journals.
All our products are certified organic and manufactured with the utmost care : unique textures, high formulas concentrated in natural active ingredients, allergen-free, without the use of preservatives or additives. The Océopin cosmetic range is suitable for delicate and sensitive skins of the face and the body.
Our expertise ? To offer you original skin cares entirely imagined, sourced and produced in France.
---
Address and contact
LE GRAND BOS
BP5
33930 VENDAYS
FRANCE
---
Contact details
Mrs BERGER COLLINET OURTHE Marina
The activities of the member
Finished products in own brand
The brands of the member