Nature-Effiscience / NIDC
Nature-Effiscience / NIDC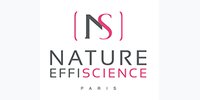 Nature Effiscience : The only organic dermo-cosmetics brand inthe world to be listed in the VIDAL database.
With its unprecedented positioning, the brandoffers high-end products, with proven efficacy,without compromising its commitment to anethical approach: consume less and consumesmarter.
Nature Effiscience helps womenenhance their beauty and protects the environment.
A smarter approach to cosmetics
Nature Effisciencebreaks away from all thecosmetics codes.The concept: offer skincare products thatrespect the world inwhich we live. Clean,healthy products inkeeping with the brand'shuman values.
Nature Effiscience,for beauty that iscommitted, responsibleand informed: staybeautiful with aconscience. NatureEffiscience was built onrevolutionising the codesof cosmetics and creatingproducts unlike any othercurrently offered onthe market.
The brandopens up the field of possibilities, combining concepts once believed to be incompatible: introducing organic tothe world of dermocosmetics.
Bringing two worlds together
A scientific brand based on Western medecine and Chinese medicine. There are only 2 recognized schools of medicine in the world: Western medicine and traditional Chinese
medicine.
The biggest difference dividing these two practices lies in their foundations. Chinese medicine evolved out of traditional cultural practices, whereas Western medicine is based on modern empirical science.

As a result, these two schools of medicine are often poised against each other; TCM is considered as preventative care, while Western medicine is for emergencies.
The first embodies prevention, while the second promotes reparation and comfort. Essentially, while the first strives for harmony and balance, the second urgently treats symptoms.
Nature Effiscience develops all of its products at the crossroads of these two medical philosophies to offer women unique, effective and comforting skin care. A unique concept, for unrivalled efficacy.
---
Address and contact
13, rue Desaix
Bât. ABC
67450 MUNDOLSHEIM
FRANCE
---
Contact details
Our activities
Finished products in own brand
Our brands