Laboratoires Téane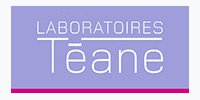 Téane, the first range of organic skin cares fully dedicated to the maternity, for all the women who want to reconcile beauty with nature.
Our first range « 100% mum » are certified organic body care products formulated especially for pregnant and breastfeeding women. This range is composed by anti-stretch marks products (one for the prevention and one for the repairing), by an oil to soothe the itching feeling and to improve the elasticity of the skin and by a firming body lotion that can be used after delivery and during breastfeeding.
We have now finished the development of our baby range specially developped for the very dry skin with atopic tendency of the baby. This new range is organic certified with proven results on the skin repair and relieve of all the symptoms of the atopic problem (redness, itching, pelling). We have 2 products for the care and 2 products for the daily cleansing
Our active ingredients have been extracted from 2 plants : cassia alata and centella asiatica and are patented by Téane. We propose today a very innovative biological action on the prevention of the stretch marks and have also good results on the stretch marks reduction.
---
Address and contact
12 rue des Sablons - POLE 45 - chez TLR
45140 Ormes
FRANCE
---
Contact details
Our activities
Finished products in own brand
Our brands