Laboratoires Biotic Phocea
Laboratoires Biotic Phocea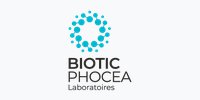 SINCE 2006, BIOTIC PHOCEA LABORATORIES HAVE DEDICATED THEIR PROFESSIONALKNOWLEDGE AND MEDICAL EXPERTISE TO COSMETOLOGY IN ORDER TO PROVIDE ETHEIR CLIENTS WITH A SELECTION OF UPMARKET NATURAL AND ORGANIC SKINCAREPRODUCTS AVAILABLE UNDER THEIR BRAND NAME.
TURNKEY SOLUTIONS :
Benefit from skincare products that have already been tried and tested on the beautycare market. Inspired by the biodiversity of our planet and designed for spas/beautysalons and clinics, our ORGANIC DERMOCOSMETIC range offers a wide selectionof innovative skincare products available for the face, body and hair, including a range for men!USING THE WEALTH OF THE VEGETABLE WORLD TO CREATE INNOVATIVESKINCARE PRODUCTS…
Luxury organic formulation
The organic cosmetics market is already highly competitive. For this reason, we wantedto distinguish ourselves by offering products with a high content of organic ingredients.Our skincare creams contain a minimum amount of 98% natural ingredients.Based on our medical expertise, we opted for products derived from active dermocosmetology.Our aim is focused on developing products that are highly effective, in phase with then°1 demand of consumers.BIOTIC PHOCEA offers a selection of refined textures and fragrances that are new on theOrganic market. These formulations were elaborated to meet the requirements of majorcosmetic brands.GET AHEAD OF YOUR COMPETITORS!
TAILORED FORMULA :
Do you wish to commercialize your own cosmetic formulation, designed to suit your conceptand match your wishes (texture, ingredients, fragrance)? From the designing stage(in accordance with your specifications) to the manufacturing stage, including packaging andlabelling, we advise you on regulations, coordinate technical information files, deal withparticular requests and marketing issues (packaging, brand image, promoting your product...)A selection of beauty care products for the body, face and hair including other specificskincare products (cosmeceutics, peelings…) available in the following forms: lotion,serum, gel, gel-cream, butter, milk, oil, mask...
OUR TEAM IS HERE TO LISTEN TO YOU AND MAKE YOUR PROJECTS COME TRUE
---
Address and contact
16-18 Bd Michelet
Immeuble Le Performance
13008 MARSEILLE
FRANCE
---
Contact details
Our activities
Services proposés
Formulation
Manufacturing
Conditioning
Tailored
Turnkey