Laboratoire Nuxe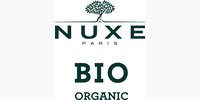 Nuxe organic certified range that allies the full force of the nature to Nuxe's unique sensoriality for proven results on the skin: more beautiful, fresh and radiant.
Nuxe organic is :
Powerful: treatments with natural and organic active ingredients obtained through green technologies that guarantee effectiveness and optimal concentration of active molecules, while respecting natural substances.
Sensorial: textures that fuse with the skin, perfumes elaborated by perfumers and 100% of natural origin.
Commitment: a responsible product life cycle, from ingredient sourcing to recycling.
---
Address and contact
127 rue d'Aguesseau
92100 Boulogne Billancourt
FRANCE
The activities of the member
Finished products in own brand
The brands of the member