HERBAROM LABORATOIRE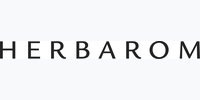 A pioneer in plant extraction and distillation, Herbarom has become a key French player specialized in natural ingredients and plant extracts for the cosmetics industry.
Taking inspiration from nature to turn concepts into reality
Herbarom finds solutions from the heart of nature to meet consumer expectations in 4 strategic markets: Agriculture, Beauty & Fragrance, Flavours & Food and Food supplements.
As a true business - partner, Herbarom supports cosmetic brands across the entire value chain, developing at their side, value-creating solutions.
For more than 25 years, this ambassador of naturalness and expert in the plant world has acquired unique and recognized know-how in sourcing, supply chain, extraction, formulation, manufacturing and regulatory support.
Herbarom offers a full range of natural cosmetic ingredients or tailor-made extracts: hydrolates, vegetable waters, essential oils, vegetable oils, oily macerates, butters,... available in conventional and certifed organic forms.
Eco-design lies at the heart of the development of ingredients for cosmetic formulation
For Herbarom, eco-design is a sustainable and committed approach to reduce the products' environmental impact throughout their life cycle:
Designing ingredients derived from upcycling
Harvesting the plants as close as possible to the distillation site
Offering Ecocert or AB COSMOS certifed ingredients
Streamlining cosmetic formulations to meet consumers ' needs for transparency
---
Address and contact
11 CHEMIN DES SENTEURS
26400 AOUSTE-SUR-SYE
FRANCE
---
Contact details
Mrs MANUBENS Anne
Mrs LUCAS Caroline
Our activities
Contract manufacturer
Ingredient supplier
Services proposés
Quantités
Small quantities
Large quantities