FLEUR D'ARMILLE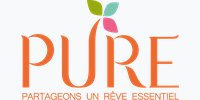 PURE company celebrates its 30 years of existence. Since its foundation, PURE pursues an unchanging objective: offer natural products of very high quality. Our formulations respect your well-being and ensure you an unequalled quality.
PURE is also efficient service and home delivery for more freedom. The PURE company, today thanks its clients, represents 250 products made in France and 450 direct jobs.
PURE has all the necessary assets to be the new business model of the following years:
- Natural products, conceived by a French laboratory specialist of organic cosmetic and green detergency,
- Trained advisors listening carefully their customers,
- Environmental and organic approach deeply marked into company's values,
- Involved customers and driving force of the respect of sustainable development's values.
PURE in few figures:
- 30 successful years of experience, in commercialisation of well-being, cleaning and hygiene products
- 140 000 satisfied customers
- 450 sales advisors all over France
---
Address and contact
Z.A. DES 3 ROUTES
9, RUE PAUL-HENRI SPAAK
49120 CHEMILLE EN ANJOU
FRANCE
---
Contact details
Our activities
Finished products in own brand
Our brands