Allegrini S.p.A.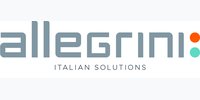 Allegrini was born in 1945, and with its presence in more than 47 countries in the world, today is a leading chemical company in Italy in the production of professional detergents and cosmetics for the hotel industry, with careful and respectful solutions towards the environment through a green applied philosophy at each stage of the process.
The target of each division are:
- for the Professional Cleaning Business Unit: the hotel sector, the world around the automotive sector, including car wash and repair shops and garages, professional laundry, healthcare and hospital, the sector dedicated to zootechnics, including the entire agricultural chain, commercial and collective catering and also cruise liners, pleasure boats and the safety sector.
- the Cosmetics Business Unit produces and supplies standard, luxury amenities lines, both under its own brand and private labels, addressing the whole hotel world; as well as cosmetics and room fragrances also for the wellness sector.
Since 2017, it is also present in the world of retail with its own line, Hemp Care, made with a high component of natural ingredients.
Quality, Innovation, Sustainability, Competence, Service and Passion are the core values at the center of the company's mission to offer the best solution in terms of cleaning, hygiene and comfort, constantly striving for full customer satisfaction and loyalty.
Consulting, training and assistance complete the Group's services, enhancing each product line that is formulated starting from listening to customer needs with the design of tailor-made proposals in the laboratory, entirely made in the plant of Grassobbio, in Italy.
The sustainability of the production chain is guaranteed by the company's history: among the first companies in Italy to produce biodegradable detergents, Allegrini keeps track of the past in promoting a "green" future for the next generations, implementing dedicated choices in respect of the ecosystem.
Thanks to its Russian subsidiary, the international business development is represented by the desire to grow and by the value of experience of an Italian company who is serving a community to offer immediate and practical benefits in several professional fields.
---
Address and contact
Vicolo Salvo d'Acquisto, 2
24050 Grassobbio (BG)
ITALY
The activities of the member
Finished products in own brand
Contract manufacturer
The services of the member
Formulation
Manufacturing
Tailored
Turnkey
Quantités
Small quantities
Large quantities
The brands of the member