EQ / EQ france
EVOA Combo Sunstick Sunscreen SPF50+ SPF50
Sun products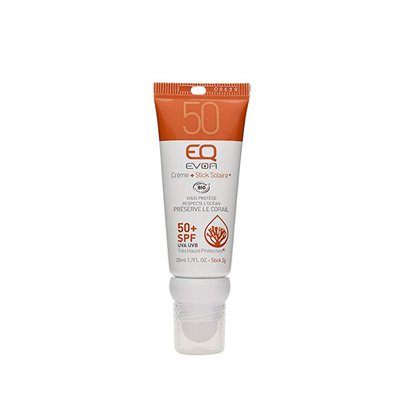 This product is labeled

EQ / EQ france
EVOA Combo Sunstick Sunscreen SPF50+ SPF50
Sun products
Product for:
VERY HIGH + HIGH PROTECTION UVA/UVB
2in1 sun protection, nomadic and handy to support all outdoor sport activities in summer and winter.
From the EQ Evoa scientific research, the Combo Sunstick-Sunscreen SPF50+/SPF50 has been developed under dermatological control to ensure you a good tolerance and a dual and optimal sun protection against UVA and UVB.
Certified Organic by the demanding Ecocert organization, the Combo Sunstick-Sunscreen SPF50+/SPF50 offers a dual protection : sunscreen SPF50 high protection + sunstick SPF50+ very high protection, in a nomadic size. A complete solution to protect and nourish the skin and the lips under extreme conditions of sun exposure, on water and snow. The sunstick is integrated into the screw-cap of the tube.
Ideal for intolerant skins and lips to chemical filters. Suitable for the whole family, including children. It doesn't dry out the skin and also protects against climatic stresses such as cold, wind and salt water. It helps to avoid tightness and crackings. Doesn't flow in the eyes.
Distribution network:
Hotels
Perfumeries
Pharmacies and parapharmacies
Beauty shops and Spas
Specialized shops