INTO THE BEARD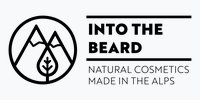 Into the Beard products are inspired by nature and made in the French Alps. Their conception has been designed to be both effective and easy to use.
Into The Beard products fall into two categories. On the one hand, the brand offers products that enhance beards, preventing dry, dull beards and irritation. On the other hand, we developed cosmetics and accessories dedicated to all those who prefer to have bare skin. It allows you to rediscover the "art of the blade" and old-fashioned wet shaving, a ritual that is truly making a comeback and is gaining popularity.
A brand that is committed to the planet
From its launch, Into The Beard has incorporated respect for the environment into its manufacturing process. The company, based in Saint-Gervais-les-Bains, in Haute-Savoie, has a strong affinity for the mountains, which is one of the natural areas that suffers the most from global warming. This sadly causes snow and glaciers to melt and reduces snow cover.
The brand has decided not to stand idly and to act its own way in two ways. Firstly, opting for an environmentally friendly manufacturing process, using natural / organic ingredients and secondly, by reducing the packaging to the bare essentials.
---
Address and contact
234 avenue du Mont d'Arbois
74170 Saint Gervais les Bains
FRANCE
---
Contact details
Our activities
Finished products in own brand