Medex d.o.o.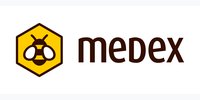 Tradition is our source of inspiration. We have refined it with high production standards, proven ingredient quality, innovation, and knowledge; all of these contribute to the quality of our carefully developed products. Our products will reveal the secrets of turning the hard work of bees and other natural produce into a pure miracle of nature.
We are always open to friendship, care of nature and well-being; we encourage knowledge distribution among generations, and highly value family, cooperation and trust. Following our motto "Healthy with nature", which can also be reflected in our products, we have gained our partners' and customers' trust.
Today, Medex is one of the leading European producers of food supplements based on bee products and other natural products. Business process excellence, continual improvement of existing and new products, care for health and well-being of our customers, and adherence to current global guidelines place Medex among reliable producers of natural products, focused on the benefits of each individual customer.
Our vision:
Play a leading role in the development, production and marketing of natural and high-quality dietary supplements in Europe.

Our mission:
We raise the quality of life of our customers with all-natural, high-quality and safe products for their health and well-being.
We are responsible and prudent.
Our values ​​are natural, knowledge, experience, innovation, tradition, Slovenian.
---
Address and contact
Linhartova ulica 49A
1000 Ljubljana
SLOVENIA
Our activities
Finished products in own brand