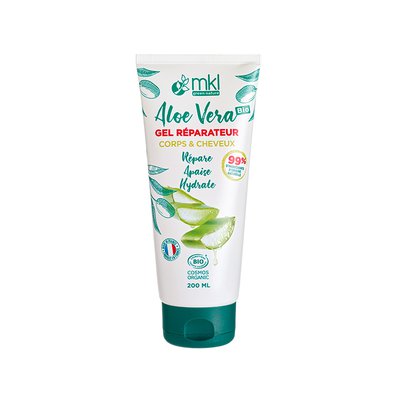 This product is labeled

Our gel of Aloe Vera concentrates all the virtues of the Aloe Vera in a greasy fluid texture wich penetrates easily, does not go fluffy and leaves the soft and supple skin.
The Aloe Vera is a succulent plant wich grows under the hot and dry climates. Of its thick green sheets, we extract a transparent gel wich contains enzymes and precious nutriments: polysaccharides, mineras, amino acids...
Its formula gives a complex present of wonderful assets for the skin, that is why it is recognized and used since thousands of years in traditional medicine or in beauty care :
Repairer in traditional medicine,the Aloe Vera was used for the healing, in cosmetic, we use it to decrease stretch marks for example because it would boost the synthesis of collagen
Calming to calm the cutaneous irritations, after a sun exposure, a removal of hair or not insect bite for example
Hydrating its polysaccharides hold the weter in the cutaneous tissue, the skin keeps its hydratation and its sweetness
Ingredients
ALOE BARBADENSIS EXTRACT*, GLYCERIN, XANTHAN GUM, CITRIC ACID, POTASSIUM SORBATE, SODIUM BENZOATE, BENZYL ALCOHOL, DEHYDROACETIC ACID
*ingrédient issu de l'agriculture biologique
98,9% du total des ingrédients sont d'origine naturelle
94% du total des ingrédients sont issus de l'Agriculture Biologique
Distribution network:
Pharmacies and parapharmacies