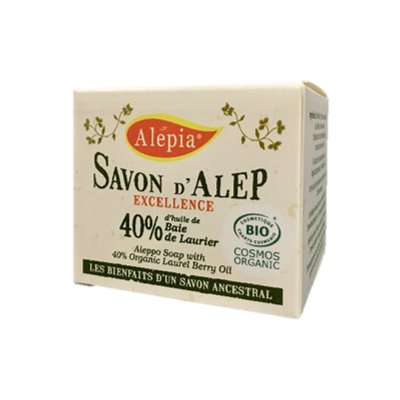 This product is labeled

Product for:
It is in the city of Aleppo in Syria, that the Aleppo soap was born 3 000 years ago, made of local products. It was the Crusaders who brought back the Aleppo soap to the West during the Middle Ages. Aleppo soap is the ancestor of Marseille soap and all today's solid soaps.
All Alepia Tradition Aleppo Soaps have a low cooking time and maturing (9 months), which makes them very special. The quantity of laurel oil corresponds to the percentage of laurel compared to the oils total.
40% Laurel Aleppo Soap is destined to the daily cleansing. Its high laurel oil content gives it unique properties recognized by dermatologists.
This soap has been made by the Master soapmaker of Aleppo, Mr HARASTANI.
Ingredients
Sodium Olivate, Aqua (water),Sodium Laurus Nobilate, Sodium Hydroxide
Distribution network:
Specialized shops
Pharmacies and parapharmacies
Large distribution